Hello friends!
Ok, I have become locally famous (at work. ha!) for my treats!
People have already started asking me what I am going to bring for Halloween this year.
Last year I made Mummies and Witches Fingers.
So this year I want to up the ante!
Here are some AMAZING and HORRIFYING ideas I have found!!!
Marshmallows dipped in butterscotch!
Sugar candy with food coloring!
Bloody band aids. Grosss!
Graham Crackers with frosting.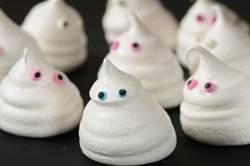 Meringue!
And for the more savory dishes...
Ahhhh yeah right! Hells to the no!
I am so grossed out that I couldn't even look at them when I posted them.
I will NOT be making any savory Halloween dishes!!!!
Do you have any traditions when it comes to Halloween foods? What do you make?